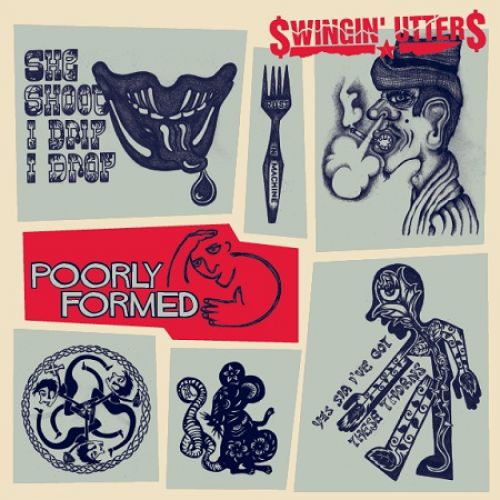 They've been a mainstay on the Fat Wreck Chords band roster since 1996, and yet after a seven-year hiatus and the recent departure of their bassist Spike Slawson, Swingin' Utters have followed up their 2011 release
Here, Under Protest
with
Poorly Formed.
This new full-length LP is the first to feature new bassist Miles Peck and marks the band's eighth studio album.
To be honest, I let this one spin in my car's CD player for a good week, rarely hitting the "next track" button. The opening track, "Librarians Are Hiding Something," is catchy as hell and sets that bait that hooks you in for the entire 14-track ride. Musically speaking, there's a really fine line walked here, with the sound being just polished enough to sound really nice and rough enough on the edges to lay true to the street punk sound the Utters are known for.
"Greener Grass" hits with their ode to that Celtic sound, mixing an acoustic guitar bed with Johnny Bonnel's rough-edged vocals. "Temporary Contemporary" is one of my personal favorites on
Poorly Formed
, as it may be one of the most straightforward and simple cuts on the album, but the guitar hook and vocals — especially during the chorus — really hits it home. "I'm a Little Bit Country" and "Military Barbara Billingsley" provide the lyrically comical and satirical element, and things end on a very mellow and unexpected note with acoustic cut "Sevita Sing."
One small criticism of this album is regarding the vocal effects placed on Bonnel's vocals on the title cut and the song "Brains" with what I can only call "Mike Ness echo effect." This effect on the vocals does nothing but make the vocalist sound like Ness. Perhaps that's my own personal irritation, since I'm not a Social D fan and really don't care for Mike Ness's vocals. But otherwise, this album is near flawless from beginning to end. A solid effort that's truly enjoyable to listen to over and over.
(Fat Wreck Chords, 2196 Palou Ave., San Francisco, CA 94124)